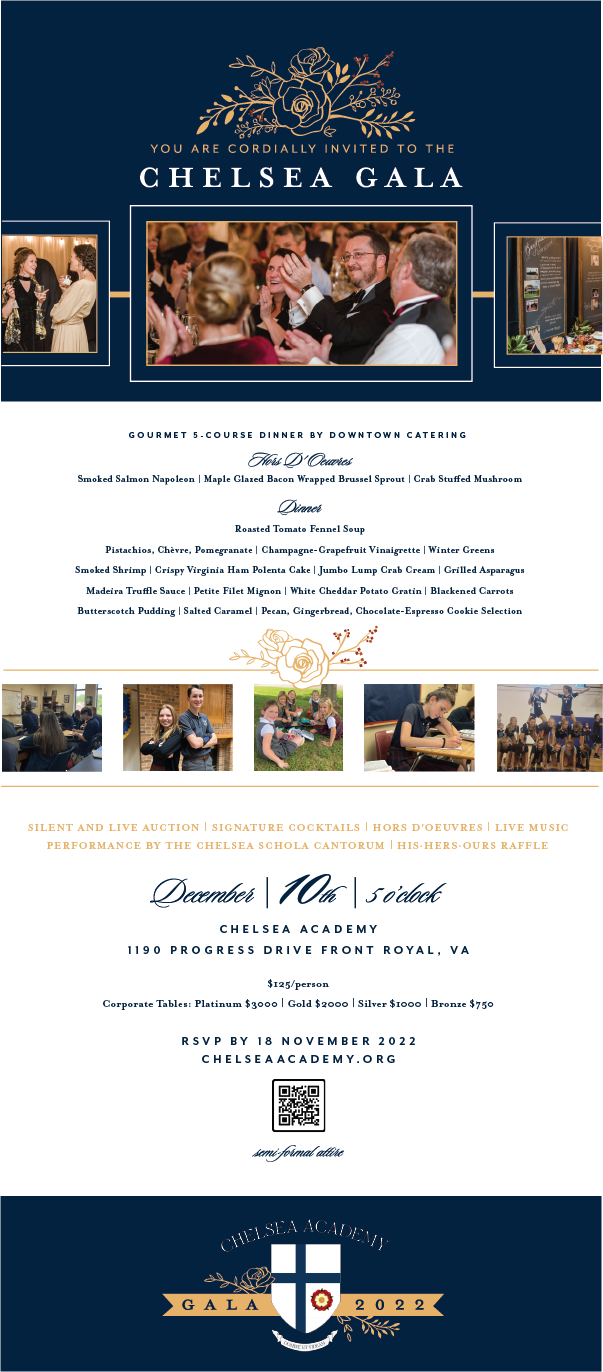 A Message from our Gala Chairs
Dear Friends of Chelsea Academy,
It is with great pleasure that we welcome you to the 15th Annual Chelsea Gala! We are truly grateful to have been honored to serve in this role for the past few years and are excited to welcome you to this year's celebration! We began with the very memorable Gala of 2020 when Our Lady of Guadalupe revealed her affection and maternal care for Chelsea and continued with a record breaking fundraising Gala of 2021 celebrated with our new head of school, John DeJak, and his lovely wife, Ann, along with the announcement of purchasing our new school building and property. This Gala, opening the celebrations of our 15th Anniversary will undoubtedly be filled with countless blessings to be revealed!
We are filled with gratitude for all of the leadership of Chelsea, for its excellent faculty and staff, and for the wonderful families who are on this journey of raising our children together. May you all be blessed by your support for Chelsea and its commitment to the faithful formation of our youth!
We are most especially grateful for our Catholic faith that gives us light and vision in the darkness. "Domine, ut videam" (Lord, that I may see)--this motto of Chelsea we leave with you all as our gift. Upon the healing of the poor blind beggar who first uttered these words, scripture says that he immediately "received his sight and followed Him, glorifying God." Lord, may we see so that we too may follow you and glorify you. We praise you, we bless you, and we thank you, Lord, for all that has been and all that will be.

In Christ and Our Lady of Guadalupe,
Matt and Jan Akers
2022 Gala Chairs