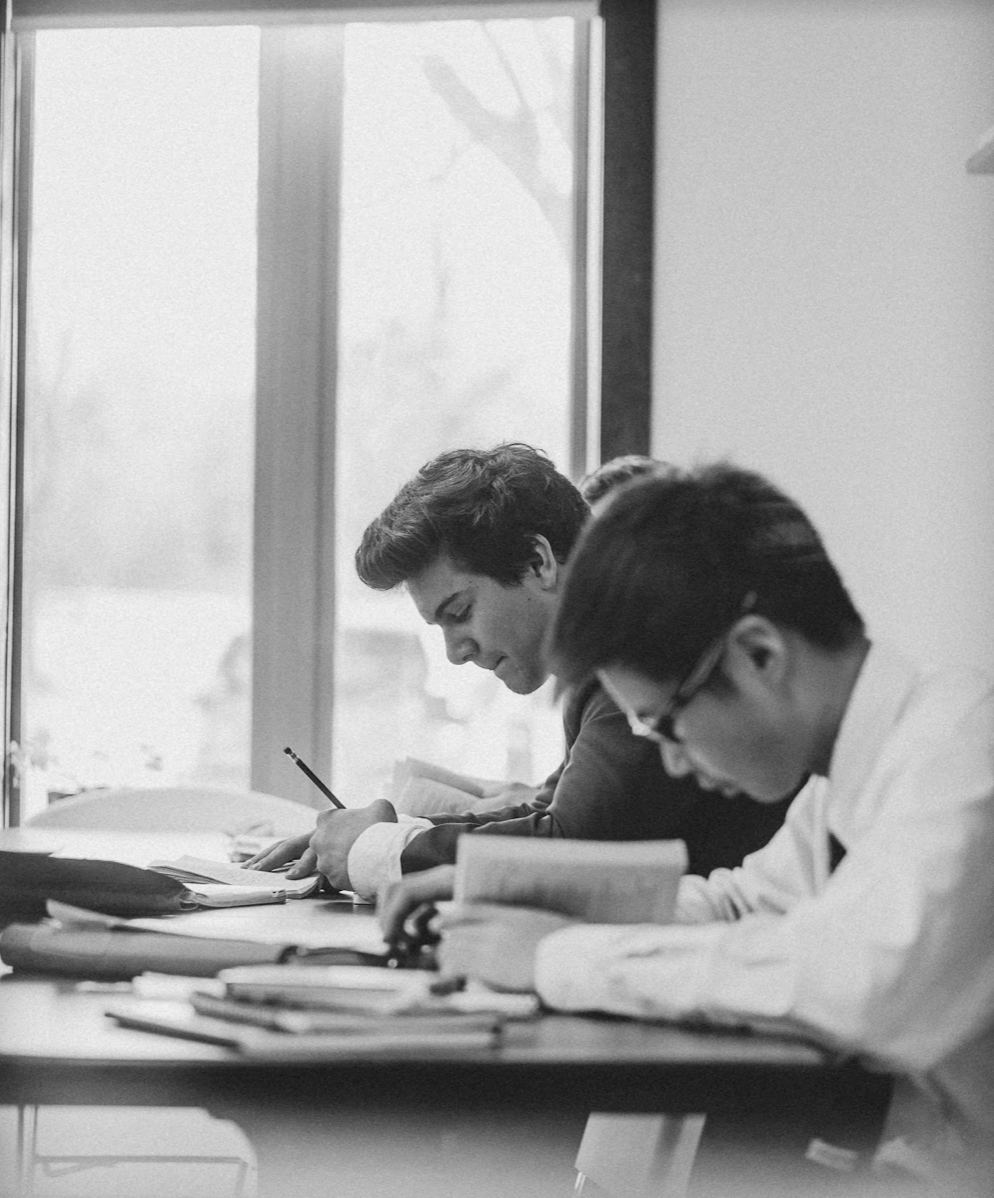 Chelsea Academy takes seriously its responsibility to prepare students for college and beyond. One essential component of this task involves guiding and mentoring students through the college application process so that they are best positioned to gain admission to their chosen colleges. Equally important is the preparation the faculty provides in helping students to build a record of achievement and ensuring that they are ready to flourish academically and socially in college.
Dedicated and experienced college counselors oversee the school's college counseling program. They work closely with parents and students in providing guidance beginning in ninth grade, including initiating discussions about students' goals and aspirations, informing students about summer enrichment opportunities, researching and recommending colleges that would be a good fit for a particular student, offering preparation for the SAT and advice on writing the essays, and making available information on scholarships and other forms of financial aid.
The program begins in the freshmen year with information about the importance of building a strong academic record, developing interests outside the classroom, and cultivating relationships with teachers. In their sophomore year, students are encouraged to begin identifying the characteristics they are looking for in a college, to visit colleges during breaks, and to continue to develop their talents and interests. By their junior year, students begin to compile a list of colleges that match their interests and to prepare to take the SAT or ACT. All students take the PSAT in grades nine, ten, and eleven, and they take the SAT in the spring of their junior year. Students return to school for their senior year with a clear plan in place for meeting the admissions requirements and deadlines for their selected colleges. In October all seniors participate in a full-day college essay writers' workshop that gives them the opportunity to write, receive feedback, and fine tune this important part of their applications.
The following information provides an overview of each year:
Freshmen Year
Laying the foundation for success as an Upper School student
Meet with the college counselor to discuss the importance of building a strong academic record and developing interests outside the classroom.
Take the PSAT9 (Preliminary Scholastic Aptitude Test for ninth graders) in the fall, providing an early assessment of math and English language/reading skills.
Take the CLT10 (Classic Learning Test for 9th/10th graders) in the spring, providing an assessment in verbal reasoning, grammar/writing, and quantitative reasoning.
Sophomore Year
Assessing students' progress towards their goals
Meet with the college counselor in the fall to begin considering what types of colleges the student will be interested in.
Take the PSAT in the fall. This is a practice for the Preliminary Scholastic Aptitude Test which students will take again as juniors, when they are eligible for the National Merit Scholarship Program and other scholarships.
Take the CLT10 in the spring.
Meet with the college counselor in the spring to begin making a list of potential colleges, while also talking about opportunities for the summer (college visits and summer programs).
Junior Year
A year of discernment and exploration
PSAT prep workshops offered in September.
Take the PSAT in October.
A college counseling reception is held in January for all parents of juniors to cover topics related to the college application process.
Meet individually with parents and students to discuss wants, needs and wishes.
Meet with the college counselor to narrow the college choices and schedule visits in the spring and summer.
Write a preliminary college essay for feedback from English faculty and the college counselor.
SAT prep workshop offered in the spring.
Schedule dates to take the SAT, CLT and/or ACT tests.
Senior Year
Applications, timelines, and acceptances
Workshop in August to cover the application process, including the Common App, essays, procuring teacher recommendations, and financial aid.
Continual meetings with the college counselor to solidify the list of colleges, and decide if any are desirable for early action (application in the fall).
Writing workshop in October for both the general essay, and essays specific to schools.
Complete process, including finished application, transcripts, teacher recommendation(s), and essay(s).
---
Throughout the application process, Chelsea recommends that students consult online resources, including the following:
---
Since its first graduating class in 2012, Chelsea has established a fine reputation with a range of prestigious colleges and universities. Not only have students gained admission to many competitive colleges, but they have gone on to excel in a variety of academic fields, including the humanities, mathematics, science, engineering, and the social sciences.
The following is a sample of schools Chelsea Academy graduates have been accepted to (with an asterisk indicating an honors program).
Amherst College
Ave Maria University
Baylor University
Belmont Abbey College
Benedictine College*
Catholic University of America*
Christendom College
Clemson University
Dickinson College
Embry-Riddle Aeronautical University
Franciscan University of Steubenville
Furman University*
George Mason University*
Grinnell College
Hillsdale College
Holy Cross College at Notre Dame
Iowa State University
James Madison University*
John Paul the Great University

Magdalen College
Miami University of Ohio
Mount St. Mary's University
New Jersey Institute of Technology
Old Dominion University
Penn State University
Pomona College
Providence College
Rensselaer Polytechnic Institute (RPI)
St. Vincent College
Thomas Aquinas College
Thomas More College
U.S. Merchant Marine Academy
University of California-Irvine
University of California-San Diego
University of Connecticut
University of Dallas

University of Mary Washington*
University of Mississippi*
University of Nebraska
University of Notre Dame*
University of Richmond
Rutgers University
University of Tennessee
University of Virginia
Virginia Commonwealth University
Virginia Military Institute
Virginia Tech
William & Mary
Wyoming Catholic College