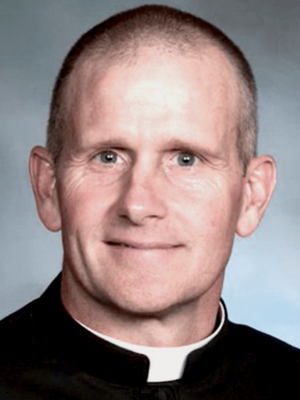 Fr. Daniel Gee
Upper School Theology
Groups: Part-Time Faculty
Father Daniel N. Gee, pastor of St. John the Baptist Catholic Parish in Front Royal, VA was born Dec. 19, 1967, in Portsmouth, Va., one of four children of Rear Adm. and Mrs. George Nicholas Gee of Key West, Florida.
Raised in a military family, Father Gee attended W.T. Woodson High School in Fairfax before graduating from Coronado High School in Coronado, Calif., in 1986.
Father Gee studied at the University of Oregon, where he majored in Spanish, then entered the collegiate level of St. Charles Borromeo Seminary in Wynnewood, Pennsylvania in 1989. He was ordained in 1995 after spending his diaconate year at St. Charles Borromeo Parish in Arlington.
Father Gee served as parochial vicar of All Saints Parish in Manassas, 1995-99, and Our Lady of Angels Parish in Woodbridge, 1999-2003.
In 2003, Father Gee was assigned to serve at the diocesan mission in Bánica, Dominican Republic. After five years as a missionary, he returned to Virginia in 2008 to serve as chaplain of Christendom College in Front Royal until 2010 and his last posting before returning to Front Royal was at St. Rita's parish in Arlington.