Coach Spotlight: Mr. Kelly
March 08, 2022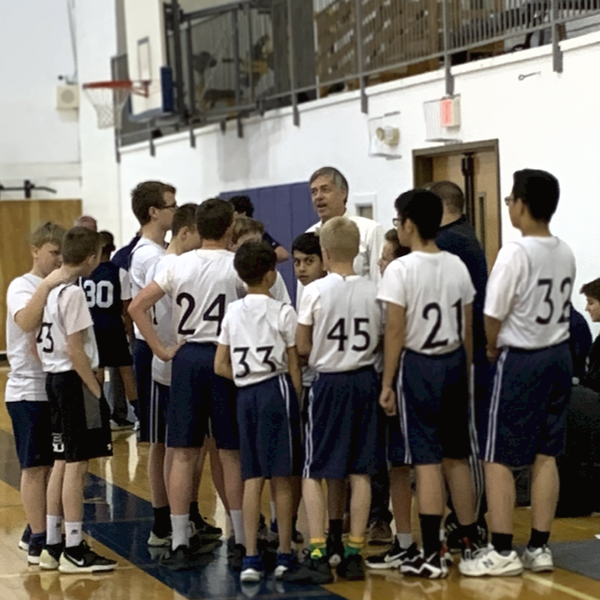 Mr. Kelly, our current Middle School Basketball coach, has been a coach at Chelsea for 4+ years and has been involved with basketball in one way or another for his whole life. Ever since he was a child, basketball and tennis have been his favorite sports. He played basketball throughout high school and, after graduating from Villanova University with a major in Political science, played guard at Christendom for one year. Soon after leaving Christendom, he was recruited by Frank O'Reilly to coach in the CYO. For him, it was an easy decision to coach. Mr. Kelly loves basketball, enjoys working with kids, and has a coaching style that helps bring out his players' competitiveness in a positive way.
Fast forward a couple of years and he is the coach of Chelsea Middle School Basketball, having one of the best seasons of his coaching career. His team is currently 12-1 and just won his 3rd straight VMSC championship title with a thrilling win over Sacred Heart.
However, Coach Kelly likes to remind us that, especially at the middle school level, the season is all about improvement. His coaching through the years has evolved to embrace this idea of improvement. Through focusing intentionally on the fundamentals of basketball, Chelsea's program has become more and more successful in developing strong players each year.
This improvement has manifested itself throughout the season, as Coach Kelly pointed out their two games versus rival Sacred Heart. The first time they only beat them by a narrow margin of two. However, the second time they met, Mr. Kelly's coaching began to show. Although down 13-8 at the end of the first quarter, the boys were able to bring it within two points by half. In the second half, they pulled away, playing their best basketball of the year and winning 42-30. The championship game was a great experience for the team. With Chelsea being the number one seed, they had the home-field advantage, a huge crowd, and a supportive cheering section (led by the varsity teams.)
According to Coach Kelly, "they felt the love and it helped motivate them." They were able to improve so much because the team understands that it is through hard work that they can improve, and they know that work leads to wins. They understand that you can have fun while working hard and improving.
Coach Kelly's favorite coaching memory is beating Sacred Heart in the semi-finals three years ago (the start of the rivalry.) When not playing basketball, Coach loves to play tennis, go skiing, teach CCD classes, and spend time with his family. He is currently a Financial Stokes Advisor with Paladin Financial.
Thank you, Coach Kelly, for all that you do!